Have you signed up yet for the Vitamin N Challenge?
The Children and Nature Network is offering a FREE Vitamin N challenge for the months of July and August. You take a pledge for what activity you will do and how often and then share in 1 or all of the following 3 ways:
Share on Instagram with the hashtag #vitaminN2022
You can share your story (750 words or less) and minimum of 1 photo and email

[email protected]

Join The Trailhead, their free online community to connect with others taking the challenge to help cheer one another along.
For more details on this challenge, please visit: https://www.childrenandnature.org/resources/vitaminn/.
My Pledge
I downloaded the pdf and filled out the pledge to get outdoors for a mindful walk for 30 minutes/day for 26 days in July.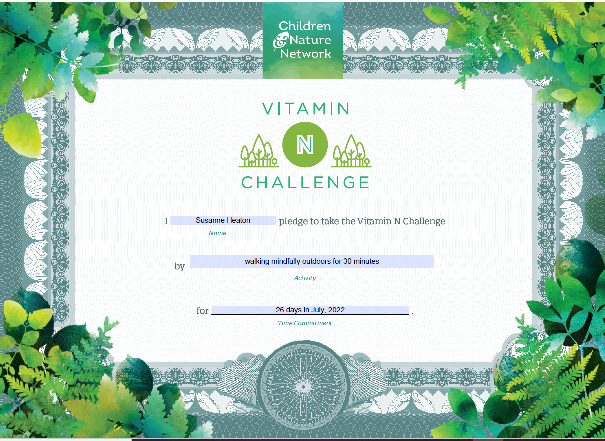 Key Words and Acknowledgement for Day 1
The words: Adventure, Awake and Awe came in as focus words for my day. My walk was at the beautiful Glenbow Ranch which is only 15 minutes away from where I live. I want to acknowledge that this location is on the traditional lands of the past, present, and future generations of the Stoney Nakoda Nations, the Tsuut'ina, the Blackfoot Confederacy (Siksika, Kainai, and Piikani), and the Metis Nation (Region 3) who help steward these lands, and honour and celebrate this place.
What made this walk extra special was it was also on July 1, Canada Day. For me, this is a time of acknowledging and respecting ALL living beings. It is my hope that we stop, look and listen with our heart to all that nature is showing us to pave the path forward.
Results from Day 1: Lessons from a Rose
Lessons from a Beaver
"Not everyone has to be perfect because the beaver is not very good at seeing or hearing, but he is still able to survive and thrive."
Lessons from an American Badger
Awesome Wildflowers
Conclusions
After 2 hours of walking and taking in all the incredible scenery, scents and sounds, I felt that every single one of my senses had been awoken. I was able to inhale the sweet scent of American Silverberry (also known as Wolf Willow). I saw butterflies of all colours, shapes and sizes dance along playfully beside me. My eyes were able to feast on all the beautiful wildflowers as well as the many shades of green. My ears took in the symphony of soothing sounds created by a gentle wind, cheery birdsong and the flowing river.
A quote came in for me by Elonora Duse, "If the sight of the blue skies fills you with joy, if a blade of grass springing up in the fields has power to move you, if the simple things of nature have a message that you understand, rejoice, for your soul is alive."
What an OUTSTANDING Day 1 of this Vitamin N challenge. Feeling full of Awe at being Awake to the wonders of nature. What did you do for your challenge?