Lisbon is a city filled with so much history. A walking tour is a great way to get familiar with the lay of the land. We went with : Unmissable Lisbon You pay a small fee to secure your spot. The idea is you tip based on your tour guides information shared. Colourful (Azulejos) tiles, hilly streets (a total of 7 hills to climb up and back down), mesmerizing mosaic cobblestones, statues galore, churches and trams make Lisbon a very interesting city to explore.
Monument to the Restorers
This monument memorializes the victory of the Portuguese Restoration War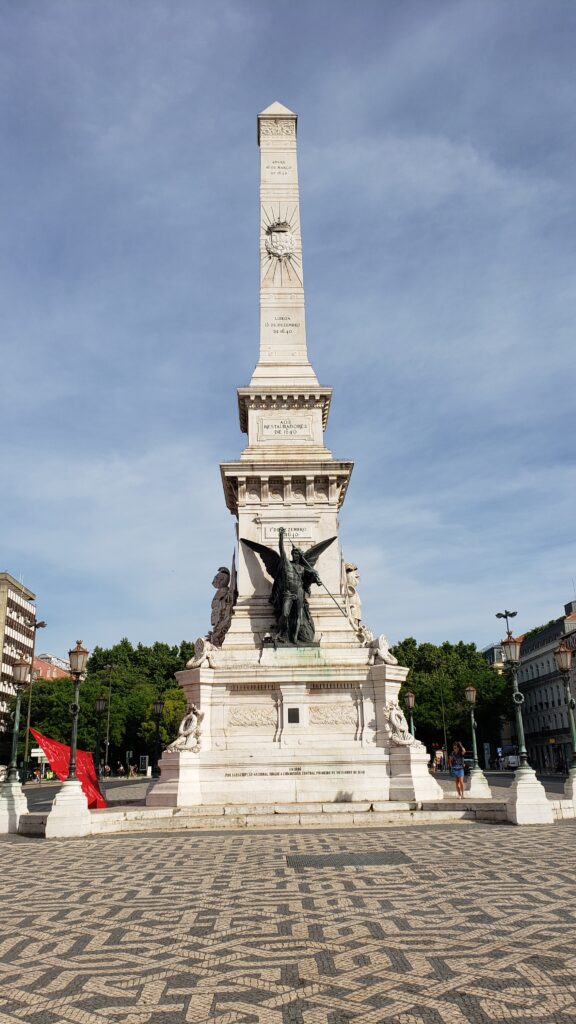 Rossio Square
The Rossio Square had been used for everything from marketplaces and fairs, military parades, political rallies, bullfighting and pubic hangings during the Portuguese Inquisition! It is now where many tourists walk about.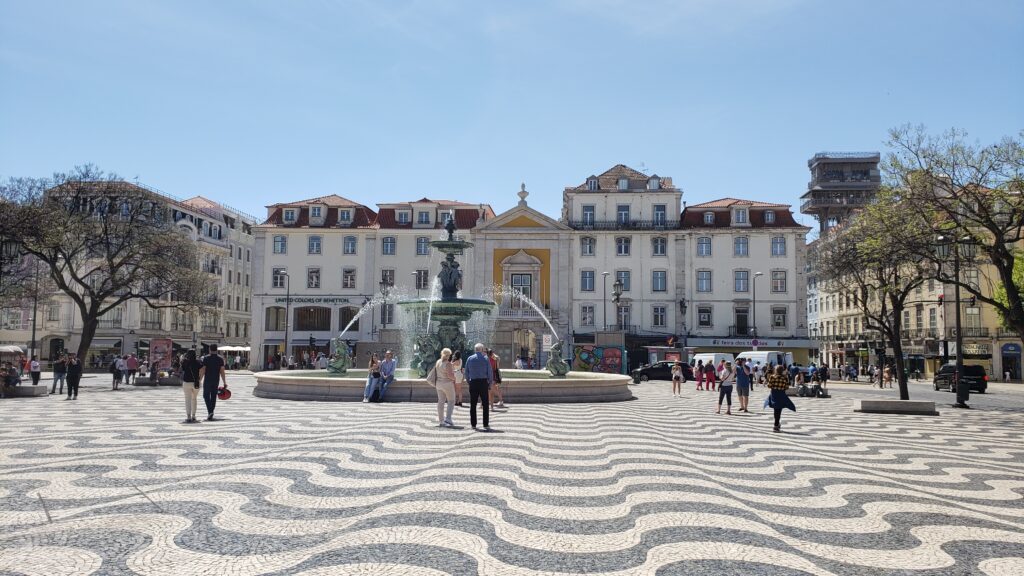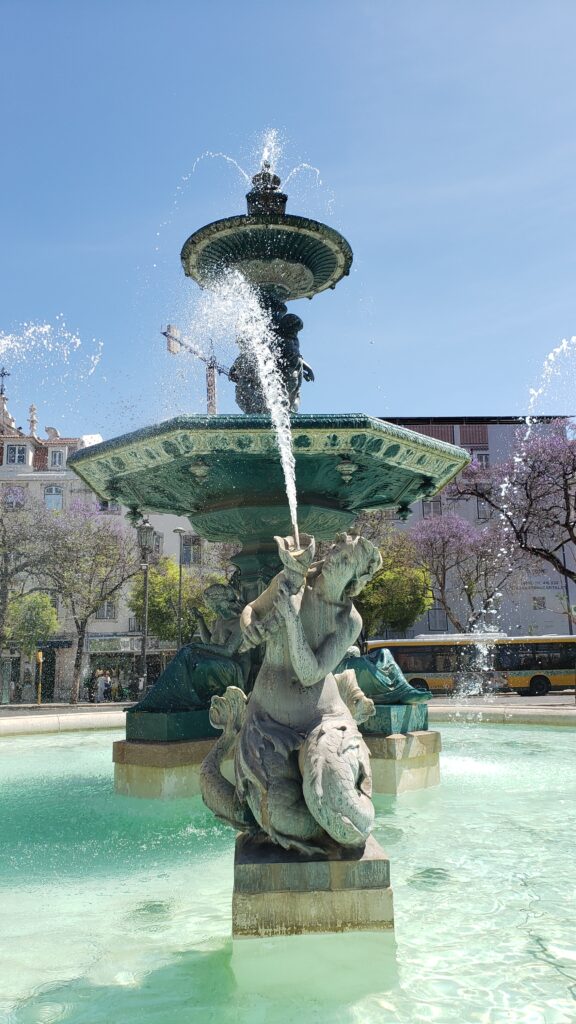 Igreja de Sao Domingos (Santa Justa e Rufina) – Burnt Church of Lisbon
Barely surviving the 1531 and 1755 major earthquakes and subsequent tsunami that destroyed much of the Baixa district, the massive stone pillars were scorched in a devastating fire—the latest in 1959. The church reopened in 1994, but still shows scars from the fires. The Star of David outside the church is its apology for the genocide of Muslims and Jews.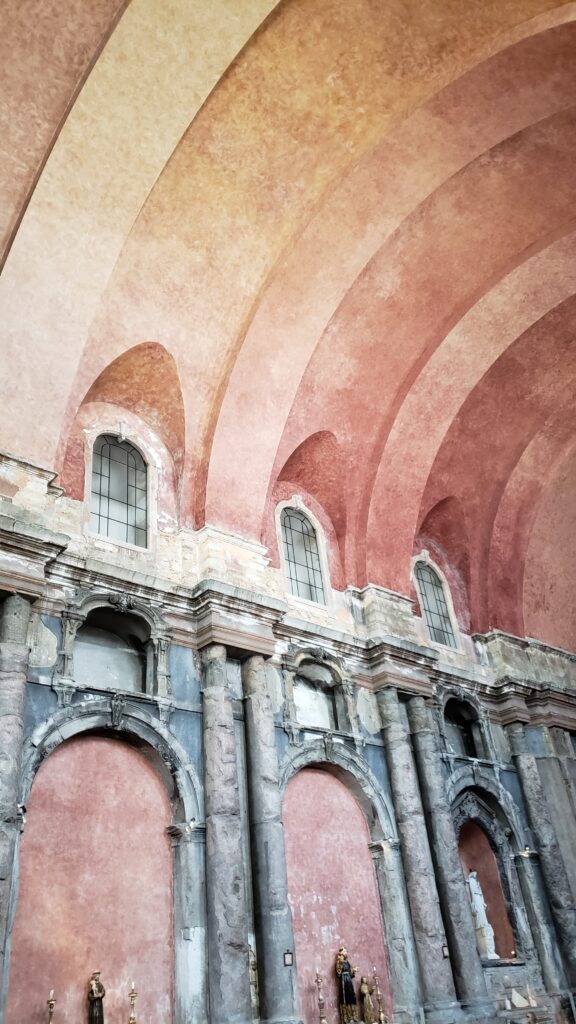 Terreiro do Paço/ The Palace's Square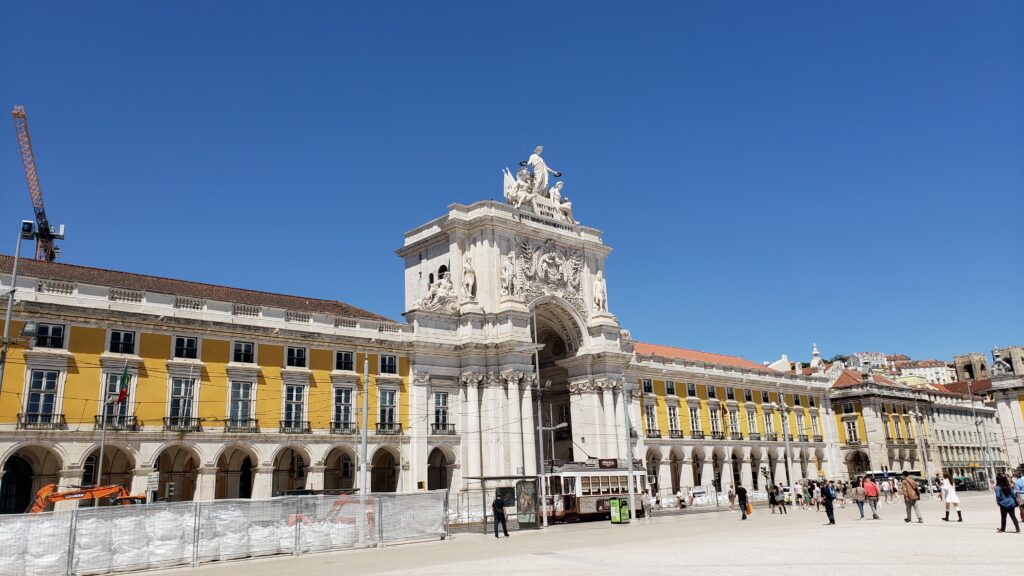 This was where the royal family lived until the earthquake of 1755. This arcade was built with the triumphal arch with the Glory Statue in the centre.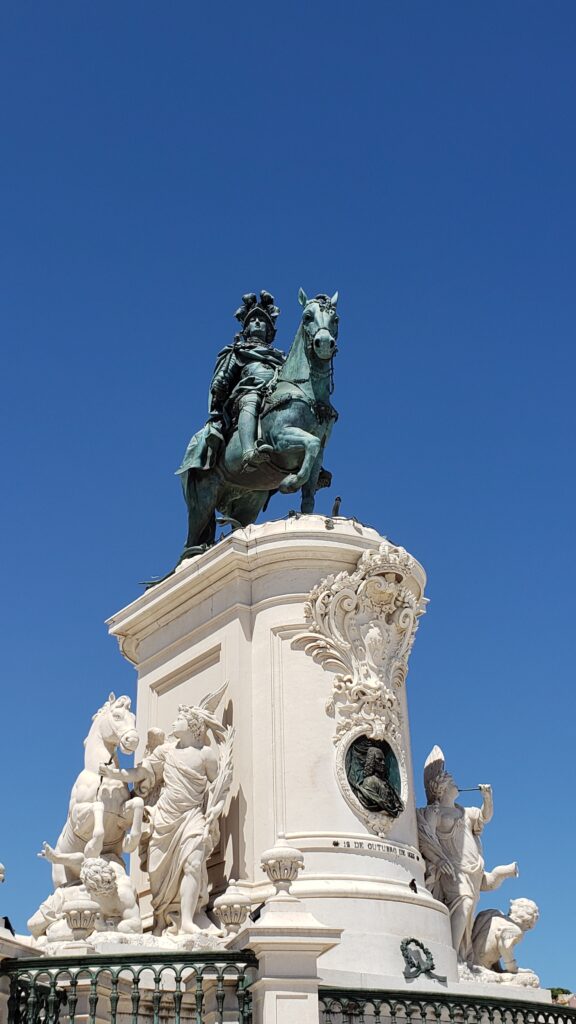 You can go up an elevator where the Glory statue stands to get 360 degree views of Lisbon area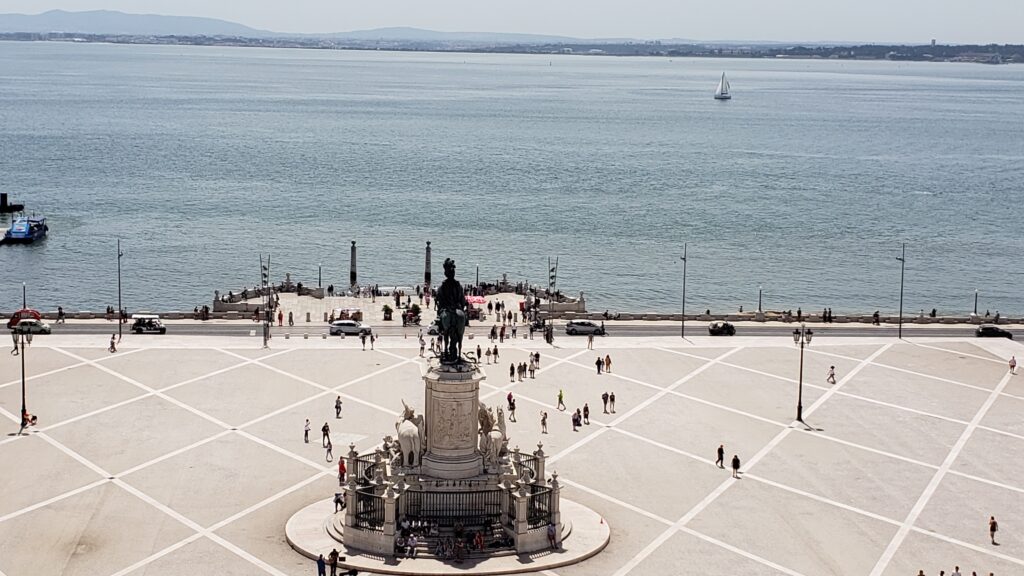 Tiles, Tiles and More Tiles..aka Azulejos!
Tiles were originally a sign that the owners were wealthy because they were very costly to make. As well, blue tiles were the most expensive because it was the most difficult colour to find.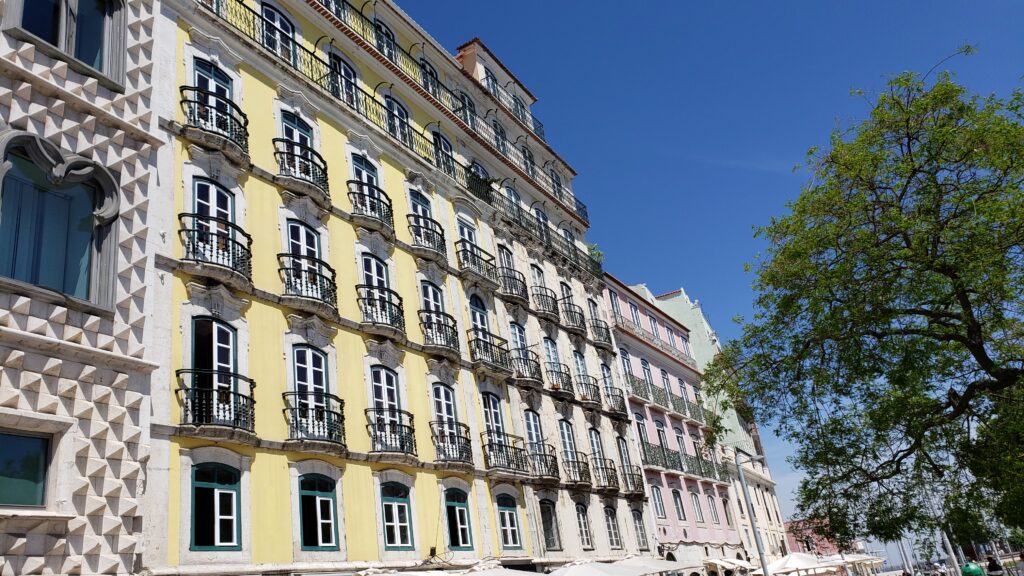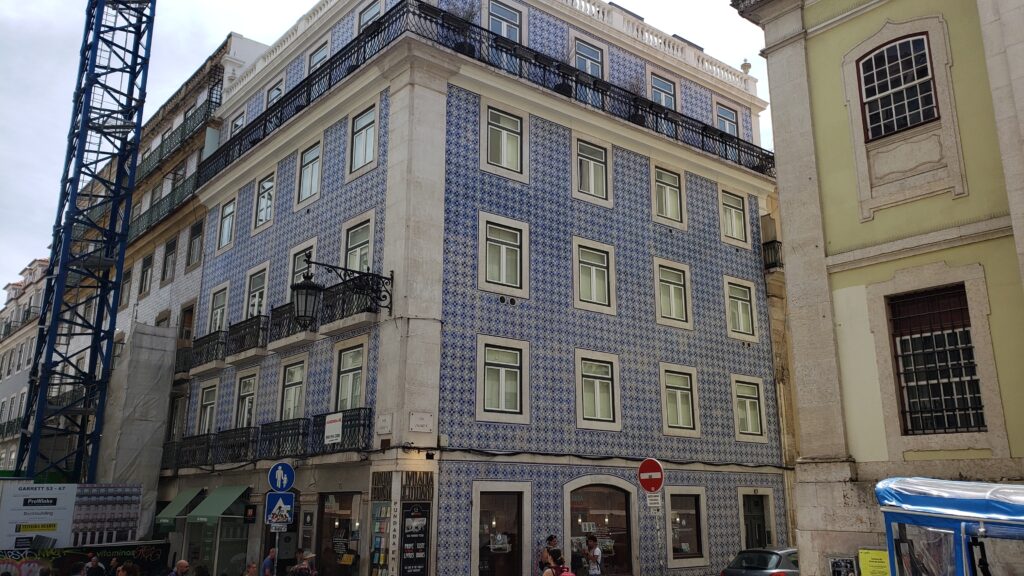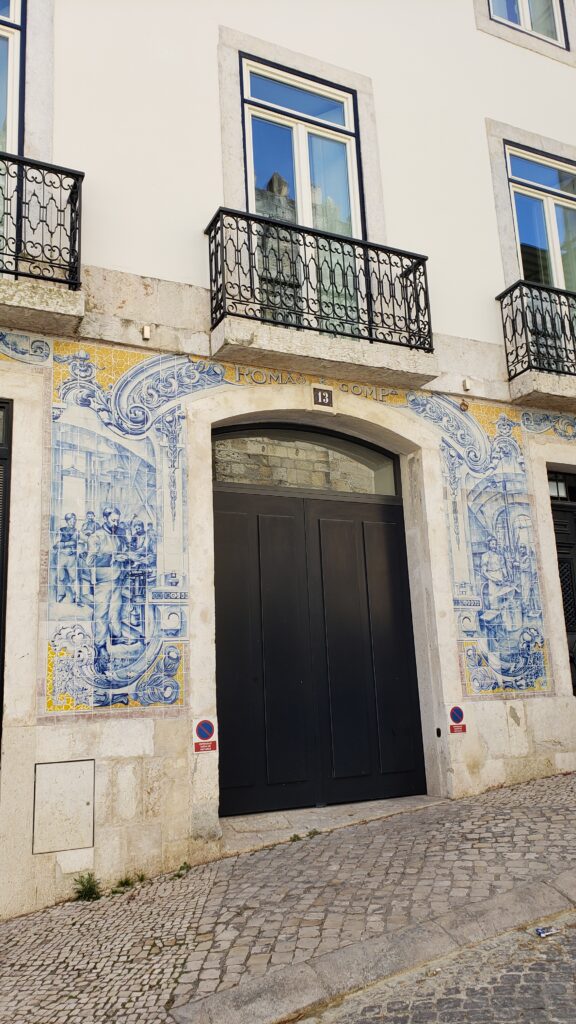 Alfama District
The castle you see in the distance on the hill is called St. Jorge. It is a great place to go to see sunsets. The Alfama district is the oldest and most intact from the earthquake, fires and tsunami of 1755 due to the fact that:
It is on a hill
Because they were Muslim, they were not celebrating All Saints Day on Nov. 1, 1755, so they did not have candles lit and hence did not have to deal with fires after the earthquake.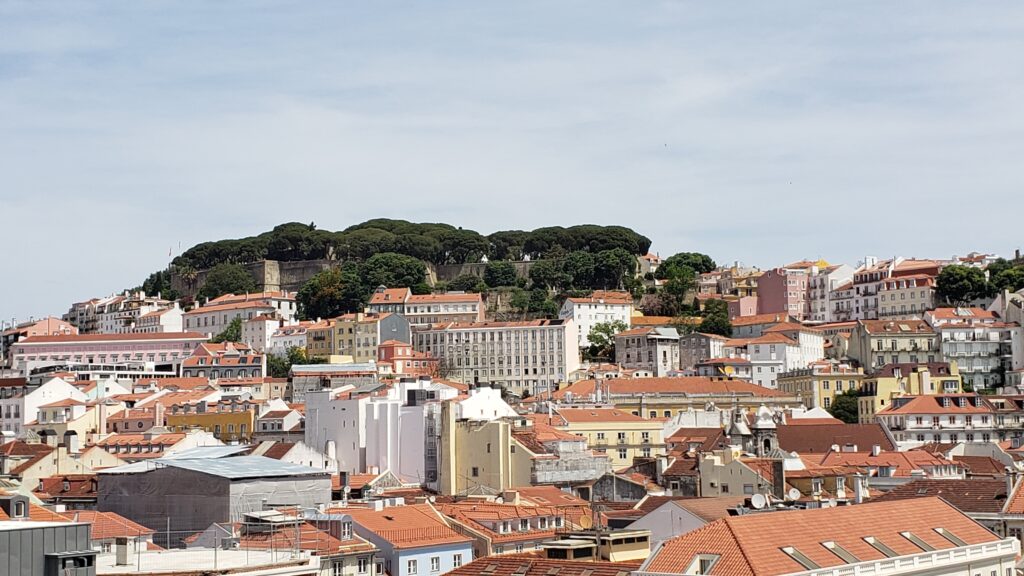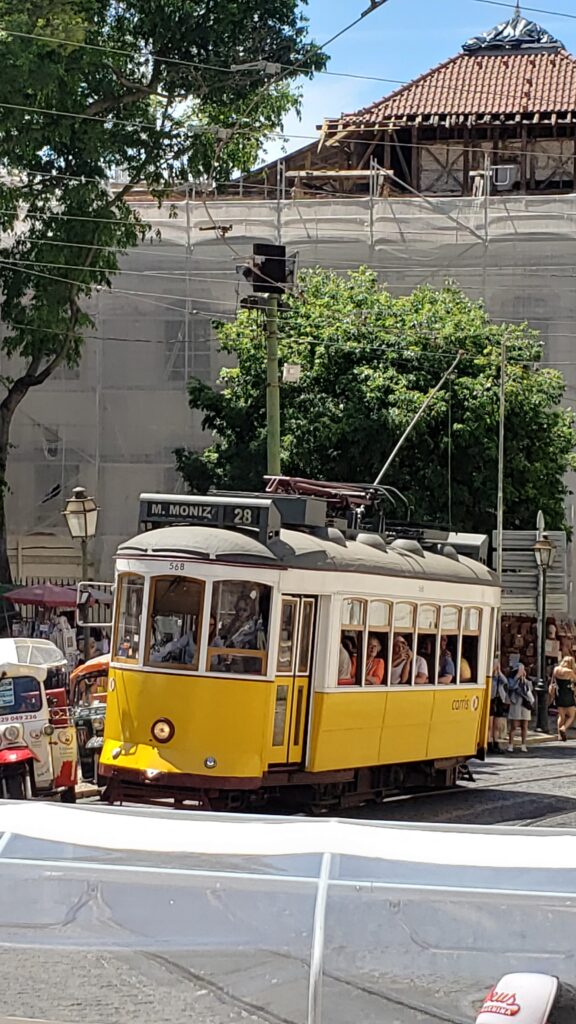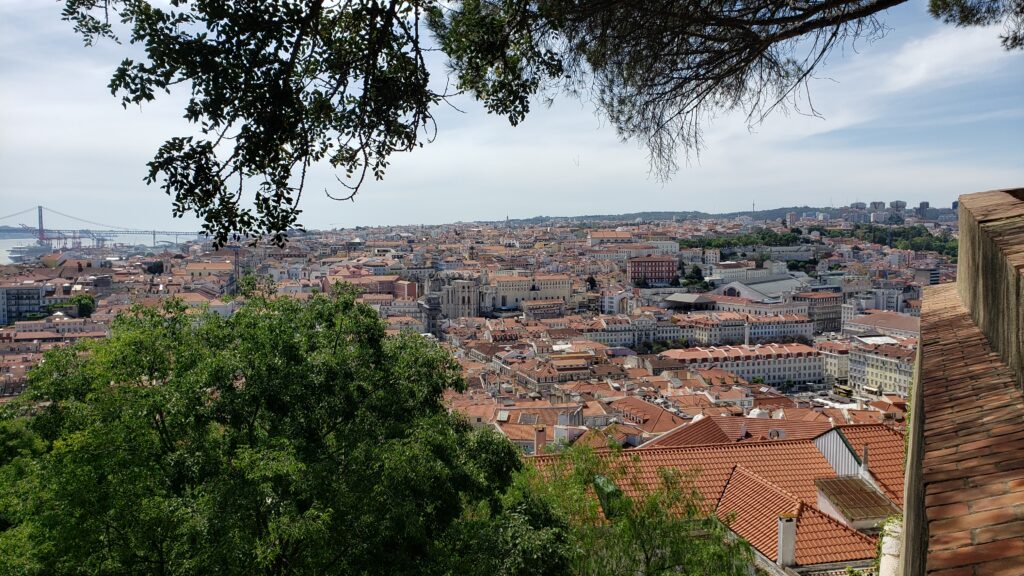 Santa Justa Lift
This was originally designed as a quick way to get from the lower to upper Lisbon. The lift was built in the same style as the renowned French architect, Eiffel. This has become a major tourist attraction and long line ups are the norm to wait to go up. We walked up the hill instead and got a view from its deck up top.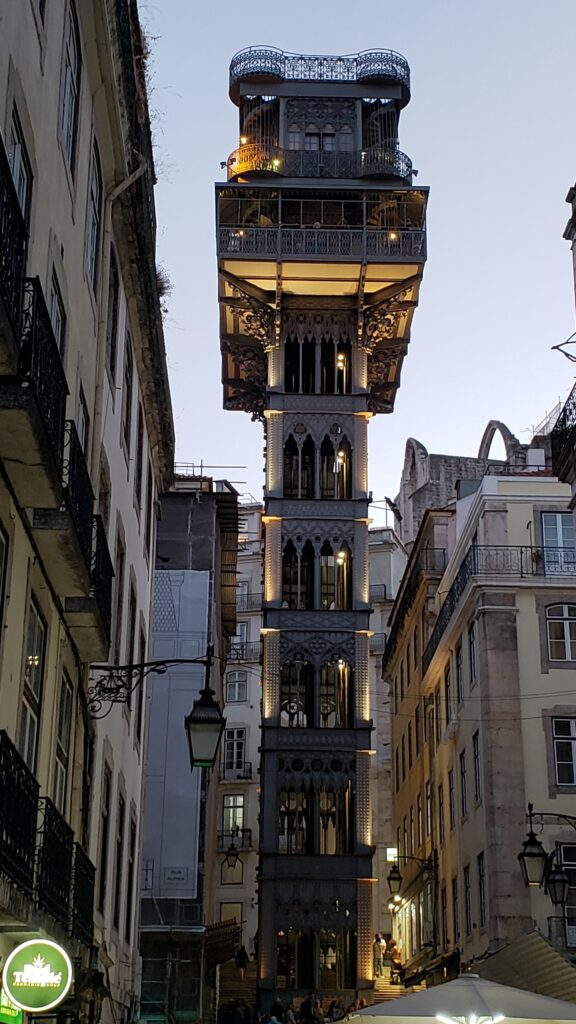 Lisbon at Night
Open liquor is allowed as you walk along the streets. Wines are very cheap, and good. Screw top wines are considered very cheap and not as good as the corked bottles. Vinho Verde means a young wine.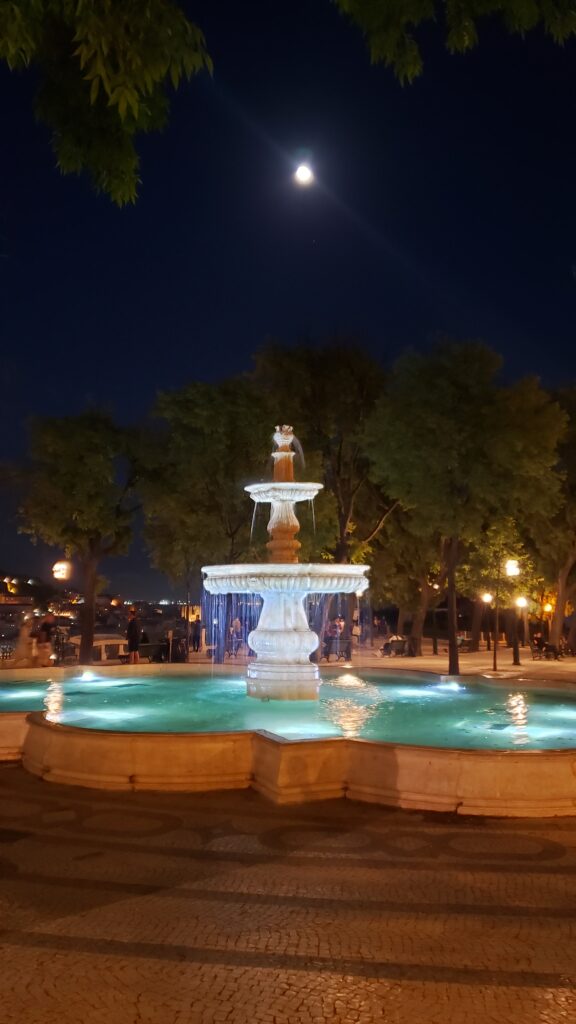 Tips:
Get a Portugal Sim card at the airport and place your country Sim card in a case for safe keeping. It cost $25 Euros ~ $32 Canadian, but much more affordable then getting charged roaming fees. There are cheaper ones available BUT, great to get at the airport to help with navigating through Lisbon.
Buy a bus card and then load it up accordingly for what you need. You can set the machine to give you instructions in English. KEEP the card and just reload as needed. Viva Viagem Card
We stayed in a Boutique Apartment which was right in the heart of Lisbon and I would highly recommend it: https://sg.trip.com/hotels/lisbon-hotel-detail-12173700/boutique-apartment-cris-do-carmo/ This also had fantastic access to the metro and the train station as well.
I used both my knee braces to help with my patella (knee cap) tracking properly. I was so grateful that I did. Going up and down those hills carrying a travel pack on my back made for loads of extra stress on the knee joint. You also get way over the recommended number of steps each day and it is up and down Lisbon's 7 hills!
We got groceries at the Continente for breakfasts and lunch. We used wraps instead of bread for making lunch and the wraps travelled so much better than bread would have. You can buy wine, beer and spirits right in the grocery store. Note that they do not refrigerate their eggs, so don't look for them in a cooler. The same goes for their milk.
Lisbon restaurants are VERY busy…even though we were in the shoulder season in May. Make reservations if you have your heart set on eating at a specific restaurant.