What gift do you give your mom?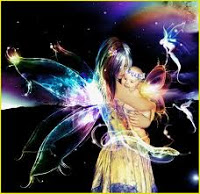 On Sunday, May 8, we celebrate a very special day, Mother's Day. What will you do? Will you buy a card, or give a hand made one? Will you buy flowers, clothes, jewelry, chocolates or make a handmade gift for your mom? Will you take her to a special restaurant, or will you make her a special meal? Here are some ideas from Avenue Magazine: https://www.avenuecalgary.com/shopping-style/great-mothers-day-gift-ideas/
My Special Gift!
I am always reminded of a special breakfast that I tried to make for my mother. I made her toast and tea and brought it up to her on a special tray. I was just five years old at the time. When mom went to pour her "tea", she said, "Oh, it is only hot water." I had never seen my mother put the tea bag into the pot prior to pouring the hot water in it. I just thought the pot magically transformed the water into tea! We had a good laugh and I think the faeries did too! Oddly enough, my mom still enjoys drinking straight hot water to this day.
Gifts from the Heart
Whatever you decide to do, make sure that it comes straight from your heart and see what sort of great memories are created for you and your family.
Sending sunshine and faery magic,
Susanne