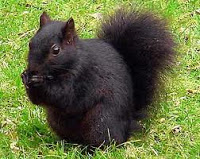 Meaning of Squirrel
This past Saturday evening, we headed out to go to an event with the Calgary Jazz Orchestra and Toe Tapping Swing. They presented An Evening with Al Capone. To be honest, I wasn't really sure what this event would be like and really didn't know what to expect. On the way driving there, a black squirrel went bounding ahead of the car. I made a note to check again on the squirrel meaning and just did so today.
What ended up happening was the evening was absolutely wonderful. Everyone was out to dance up a storm and have good, plain fun. It was actually hard to leave!
Squirrel medicine is as follows: http://www.whats-your-sign.com/animal-symbolism-squirrel.html Bottom line is fun, balance and expression/passion. So, the squirrel was sending me a message loud and clear. Thank you great spirit for all the wonderful signs you send.
In gratitude,
Susanne