Since Today is about "Play" from the Faery Camilio card that I pulled, I wanted to include excerpts from an article that was done by Tina Thrussell, Owner of Best U Can B Inc for their weekly newsletter.  Thank you Tina!
Recently, a wonderfully touching project emerged from Susanne's book, The ABC Field Guide to Faeries. What started as a 'simple' sharing – Susanne hosted a celebration evening where she wanted to give her supporters over the years a little 'thank you'. She collected rocks. She paid artists who utilize the Calgary Drop-in & Rehab Centre to paint the key words connected with each of the 26 faeries in her book on these rocks and gave them away at the celebration. – has turned into a way to support these artists!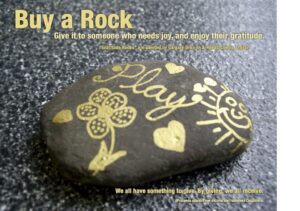 Through a series of delightful synchronicities, Gratitude Rocks are now available through 6 stores in Calgary. The proceeds from every rock sold goes directly to the artist who painted it. They make great gifts (here's a wonderful idea for stocking stuffers, dear reader!) that bring joy to the giver, the receiver and the artist who created them! What's more, they are the gift that keeps on giving, as Susanne encourages you to give your rock away at some point to someone whom you feel would benefit from the message, then write to her with your story at [email protected] which in turn will be shared with the artists who created the rocks.
I chose a rock that said, "Play" at the celebration and it was the perfect message for me at the time. I'd realized I'd been taking myself and my life far too seriously over the last little while. I knew it was time to lighten up! And, after selecting my rock, I ended up sitting at a table beside a woman who is a puppeteer – someone who plays for a living!
I was blessed to experience another dimension of the project when I accompanied Susanne to the Calgary Drop-in and Rehab Centre last week to donate my collection of river rocks (which Neil and I picked up over the years at various locations where we've hosted retreats) to be painted. I was blessed to meet four delightful people who thoroughly enjoyed painting the rocks and sharing their stories with me. It truly was an honor to get to know these artists and to hear their stories. They are very interesting, insightful people who certainly blow the doors off everyone's stereotypical description of a homeless person! I even got to meet Ryan, a brilliant artist who painted the rock  "Play" that I had selected at Susanne's celebration.
During a lull in conversation, I shared with Susanne the concept that a colleague and I had been discussing the day before– a Play Advocacy Day. Leslie, one of the artists, became very interested in the conversation. She asked if we might be looking for play professionals, because if we were, she'd be happy to contribute. Turns out she was a play advocate for years in BC, teaching adults how to model and encourage play for children! Her chronic fibromyalgia prevents her from being gainfully employed anymore, but she still has lots to contribute to the world, and wants to, whenever she can. Bill, a truly impressive, self-taught artist, jumped into the conversation, asking if he could connect me with the various performing artists he knows that, in effect, encourage adults to play.
Wow! My gift of a few river rocks for them to paint paled in comparison to the gifts these artists were giving me! What an experience!
Gratitude Rocks have the potential to change the face and stigma of homelessness, while bringing joy and gratitude at the same time. If you could help spread the word about this project and the locations below that are supporting this project, we would all be incredibly grateful.
Gratitude Rocks are available for purchase in Calgary at these locations:
7th Chakra 1301-17 Avenue SW, phone 403-668-1743
Glenbow Museum 130 9 Avenue Southeast, phone 403-268-4100
Self Connection Books 125-4611 Bowness Rd NW, phone 403-284-1486
Soul Food Books 3-213 19 St NW, phone 403-270-0410
The Divine Mine 222, 11566 – 24th Street SE, phone 403-279-9555
Our Angels Centre for Well Being #3 2009-33 Ave SW (Marda Loop), phone 403-226-7665
In gratitude to you Tina Thrussel for composing this wonderful article.  Please visit Tina's site at: http://www.bestucanb.ca/
Tina Thrussell
Aka Woman that Dances with Light
Personal Wellness Coach, Energy Healer, Nia teacher, Workshop & Retreat Facilitator, & President of Best U Can B Inc.