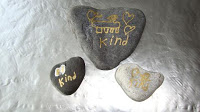 Today, November 13, is World Kindness Day. What do you plan to do?
I decided to do a hand written note to someone. You know how in this age of technology, it is so nice to receive an actual letter by snail mail. I was amused by a book that my mom lent to me called, "More About the Art of Living" by Wilfred A. Peterson: https://www.goodreads.com/book/show/2579716-more-about-the-art-of-living. The reason I was amused, was he wrote this essay in 1966 and it was called The Art of Writing Letters. The thing that amused me was that he wrote this before all this technology that we now have at our fingertips, and yet the power of the pen in a letter is still so profound. I want to include a few excerpts here for you.
"Put your words in a letter. Spoken words die on the empty air. Words in a letter endure and can be read again and again. Friends tend to fade away though neglect. Keep friendships alive with letters. The coming of the postman is like the daily round of a Santa Claus. Your letters can be gifts to add a new glow to the lives of people. "
Whose life could you add a little bit of a glow to by writing a letter or even just a quick note to let them know that you are thinking of them? Here is to you being a Santa Claus in someone else's life. Happy World Kindness Day to you!
Sending sunshine your way,
Susanne