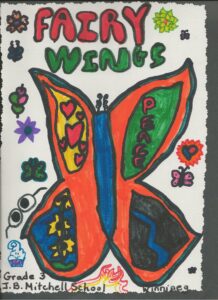 "Imagination is more important than knowledge."   Albert Einstein
I have always loved how brilliant Albert Einstein was for not only his scientific genius, but also for his appreciation of nature and for realizing the importance that imagination plays in learning about life.
I am absolutely over the moon with a recent gift I received in the mail.  A teacher of a Grade 3 class in Winnipeg, MB read my book to her class and then had each of the children create their own faery.  Each child had to write 5 sentences about what their faery looked like and liked to do.  Then they needed to include the message from the faery.  Finally, they had to draw a picture of their faery and where they lived.  The teacher packaged up all of these incredible creations and sent them to me in the mail.
The amazing stories and pictures that came out of that exercise have touched my heart to the core.  Words cannot fully express my deep and humble gratitude for this most amazing gift.  To see imaginations ignited like this totally brought tears of joy to my eyes.
Example 1 of the stories shared:
Sharko is the fairy of sharks.  His big teeth are like a great white shark's.  He had a fin on his back.  He has lots of friends.  He can swim very fast and doesn't have any enemies.
Sharko's advice: Be kind to one another.  Don't be a bully.  Share things with others.
Example 2 of the stories shared:
Frosty is the fairy of winter.  When Frosty is angry, he makes avalanches.  When he is happy, he jumps in the snow.  His favourite dessert is ice cream.
Frosty's advice: Stay off thin ice and make sure you don't get frost bite!
Our brightest blazes of gladness are commonly kindled by unexpected sparks!" Samuel Johnson
In huge and humble gratitude to the Grade 3 class at J.B. Mitchell: https://www.winnipegsd.ca/JBMitchell
Sending sunshine and loads of faery magic,
Susanne