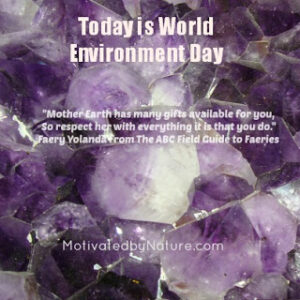 What does World Environment Day mean to you?  To me it gives us all a chance to reflect and bring worldwide awareness to the fact that Mother Nature needs care, respect and protection too.
Amethyst has healing properties, so I thought this picture I took was the perfect backdrop for the quote by Faery Yolanda.
This is the background information on Faery Yolanda: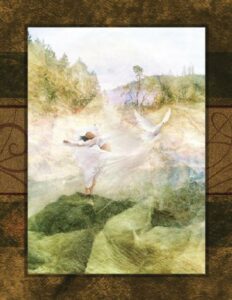 Yolanda is the protector of our beautiful lands,
Like the mountains, the pains and the desert sands.
She is a peaceful warrior that needs to be revered,
So treat her with respect and you'll have nothing to fear.
Here is Faery Yolanda's plea:
"Be kind to the land that surround you all around,
Never throw your garbage over earth's sacred ground.
Mother Earth has many gifts available for you,
So respect her with everything it is that you do." 
What are you going to commit to for today and going forward to leave this earth a better place than you found it?
I am going to continue to be Motivated by Nature! I will keep sharing insights and lessons that nature so effortlessly shows to me.
Sending loads of sunshine and faery magic your way!
Susanne