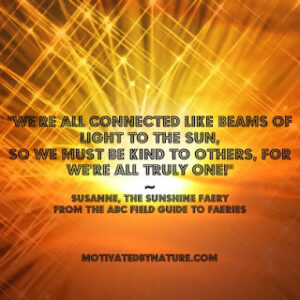 I am currently reading Brene Brown's book, "The Gifts of Imperfection." https://www.amazon.ca/Gifts-Imperfection-Think-Supposed-Embrace/dp/159285849X It is interesting to me as she makes reference to the fact that years ago if one were to say that we're wired for connection, it would have been perceived as New Age thinking.  Today however, neuroscience has proved that indeed we are all wired for connection.
Then she said a statement that really resonated for me, "Technology, for instance, has become a kind of impostor for connection, making us believe we're connected when  we're really not -at least not in the ways we need to be."
This message of connection coincides with the message from Susanne, the Sunshine Faery in my award winning book, The ABC Field Guide to Faeries:
"We are all connected like beams of light to the sun,
So we must be kind to others for we're all truly one.
No matter where we come from in terms of colour or race,
We're linked one and all to this brilliant light place."
I decided to have as little as possible technology this weekend and enjoyed some heart to heart connections with friends and family both in person and on the phone.  I truly believe that it is important for each of us to gift ourselves some time where we are technology free and have some great one on one conversations.  I think it is really important to have that balance.  What are your thoughts?
Sending sunshine,
Susanne