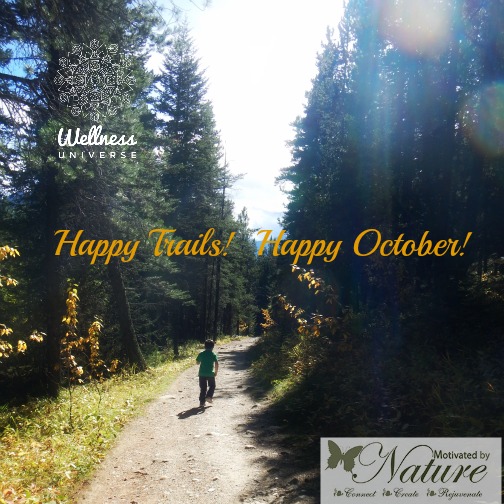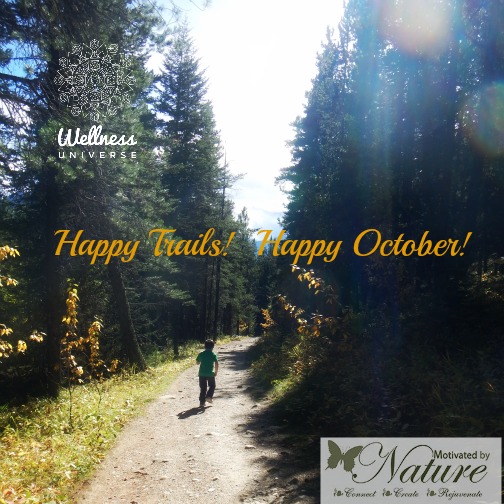 Happy October
This is what I posted in my recent October newsletter. I will be asking my newsletter subscribers to migrate to my blog and I will just post here instead.
Flower for October: Marigold
Gemstone: Tourmaline and Opal
October calendar Quote: "Courage is like love, it must have hope to nourish it." 
Napoleon Bonaparte
Key Word for October: Nourishing
What things can you do to bring nourishment to your mind, body and soul?  One of my absolutely favourite things to do, especially when it starts to get cold outside, is to have a PJ day all day long on a Sunday and read great books or watch some inspiring movies.  Taking a hot  bubble bath midway through the day and putting on a new set of PJ's is absolutely divine!  Here is to you gifting yourself the time to nourish your mind, body and soul.  
I took this picture of my nephew happily skipping down a trail while we were doing our nature scavenger hunt. The hike was full of so many magical moments.  I have attached a link to the blog that I did about what happened: https://wwwtemp.motivatedbynature.com/scavenger-hunt-at-barrier-lake/
October is a time to reflect on our blessings
I am grateful to be one of six women that is speaking Ted Talks Style at the Women Talk annual event at Cardel Theatre on Wednesday, Oct 7 at 7:00 p.m. Tickets are $35 and all proceeds go to the YWCA of Calgary. http://womentalk.ca/calgary-yyc-2015/  We also have a special guest named Hannah Rose who is only ten years old and  will be opening the event with a beautiful song that she wrote, called The Mark. Her song is not yet up on i-tunes but you can get a glimpse of her powerful video and angelic voice on her Facebook page. https://www.facebook.com/Lovelivwithhannah   Hannah so eloquently shows that you are never too young to make a difference.
Since Oct 12 is Thanksgiving, I wanted to give out a FREE e-book of my award winning children's Book, The ABC Field Guide to Faeries if you sign up for my blog by Oct. 15. It is on the upper right hand side of this page.
Finally, I will also be one of the authors at the Meet Your Local Authors Book Fair and Sale which will be held at Cardel Place (not Cardel Theatre) 11950 Country Village Link NE on Saturday Oct 24 from 9:00 a.m. – 3:00 pm. I will be there as Susanne, The Sunshine Faery from my book, The ABC Field Guide to Faeries. http://www.meetyourlocalauthor.com/
May your October be filled with magic and may you gift yourself the time to see it.
Sending loads of faery magic and sunshine your way,
Susanne