In a previous blog, I mentioned about meeting a most incredible gentleman by the name of Jack Hilton. Jack is a 96 year old Typhoon Fighter pilot who served our country during WW II.  If you were to meet Jack, the first thing that would strike you is his incredible attitude, his cheeky sense of humour and his sincere humbleness.  Further details on that initial blog are here: It all Started with a Handshake.
During a Remembrance Day service last year, it came to my attention that some veterans were receiving The Legion of Honour medal from the French Government for their involvement during D-Day (the successful invasion of Normandy on June 6, 1944). The Legion of Honour is the highest-ranking order and decoration in France.
Having had a few discussions with Jack, I knew that he had flown a few missions during D-Day and I inquired as to why he had not received a medal.  He indicated that he didn't know anything about it.  I started making some calls and filling out some forms to nominate Jack.  I met a few roadblocks in the process, one of them being that the deadline had past for nominations. I was then told if Jack had his flight logs from D-day, we could fax those in, and we may just have a chance, but there were no guarantees. Jack did indeed have those logs and I crossed my fingers and hoped for the best.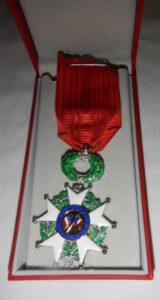 In April  2015, I received a letter from Nicolas Chapuis, Ambassador of France to Canada. The letter was a direct copy of the one sent to Jack.  With a huge lump in my throat and tears of gratitude streaming down my cheeks, I read the first two paragraphs.
"By order of the President of the Republic of France, you have been awarded the rank of Knight of the French National Order of the Legion of Honour, as of March 31, 2015.  Please accept my sincere congratulations in this regard.
This distinction (the Legion of Honour is the highest national order of France) illustrates the profound gratitude that France would like to express to you.  It is awarded in recognition of your personal involvement in the liberation of our country.  Through you, France remembers the sacrifice of all of your compatriots who came to liberate French soil."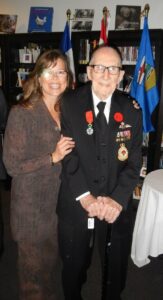 The remainder of the letter indicated that an official representative of France would bestow the medal on Jack at a ceremony at a later date to be determined.  That later date came on Friday, Oct 9. What an incredible way to begin our Canadian Thanksgiving weekend.  Jack as well as  two other veterans received this prestigious award during the ceremony.  Jack could only invite 10 people to witness him receiving this medal and I am so honoured that I was one of those lucky people invited alongside his family and friends. Legion of Honour Award
I had no idea of the results that would occur from a very simple handshake to thank a veteran for my freedom.  Although I know Jack's humbleness does not agree with me calling him this, he is indeed a hero to me.  May this story encourage you to step outside your comfort zone and shake the hand of a veteran to express your gratitude.  You never know the road you may travel down from doing so.
With humble gratitude to all who served and continue to serve our country,
Susanne