Today January 27, 2016 is National Literacy Day. What does this mean to you? Do you know that if you are currently able to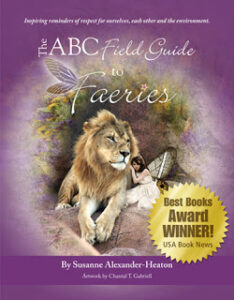 read this that you are more fortunate than 3 billion people in the world who cannot read at all? That statistic to me is mind boggling.
The picture that you see here on the left is one that I am so humbly grateful for. I had a private sponsor buy 2,000 of my books in 2011 to be donated to FESA (Further Education Society of Alberta). http://www.furthered.ca/This organization is dedicated to providing literacy for the entire family. The fact that my book rhymes helps new readers.
To support National Literacy Day, I am offering my award winning children's e-book, The ABC Field Guide to Faeries, for FREE today only. All you have to do is go to this link https://wwwtemp.motivatedbynature.com/shop/books/the-abc-field-guide-to-faeries/ and select either e-pub or pdf, and type in the coupon code "read".
FESA is asking people to send in their total reading minutes from Dec. 9 to Jan 27th to this email address: [email protected] How many minutes do you think that you could add with the reading you have done? In this time span, I have read:
Elizabeth Gilbert's book, Big Magic – an excellent book on encouraging your creativity to be unleashed
Anita Moorjani's book,. Dying to be Me – a very thought provoking book on her near death experience and a glimpse into what life is like after we cross over and how we can be more happy and joyous in this life
Jack Hilton's book, The Saga of a Canadian Typhoon Fighter Pilot – a hair raising account of what a WWI veteran experienced during a time where our country needed his help the most
Remember Helen's Story – I truly had my eyes opened on this one in regards to tenacity of the human spirit against all odds.
Realms of the Earth Angels – by Doreen Virtue which includes suggestions, advice and case studies.
When my 6 year old nephew has been here for sleep overs, I read:
Green Eggs and Ham – I LOVE Dr. Seuss!
The Night Santa Got Lost – How Norad Saved Christmas
Ladybug, Ladybug, Come Fly on Me by Angel B
The Loving Tree by Hannah Rose
So in closing, in the spirit of Dr. Seuss's Green Eggs and Ham:
"I like to read books here and there.
Say! I like to read absolutely ANYWHERE!
I do so like to read Sam-I-am!
To read some more is now my plan!"
Happy Reading!
Sending sunshine,
Susanne