TIPS ON PLANTING TULIPS TO CREATE A BURST OF COLOUR
This past weekend, I had the pleasure of digging in the dirt, planting some tulips and envisioning them bursting forth in the spring.  Digging in the dirt is so great for the body, mind and soul as so many scientific experiments have shown.  Actually inhaling the dirt helps to release chemicals from our brain like dopamine that help to make us happy.  So there is some solid truth to the Happy Gardener! But, back to the tulips!
As I was planting the tulips, I thought I would take some pictures to show you some tips that I learned for how to make tulips truly showcase their magnificence.  I planted these beauties thanks to being gifted them from a lovely friend.  They are called Canadian Celebration  (Happy Generation) tulips and just looking at them on the picture makes me happy.  So looking forward to what they will show me in mid-spring. https://www.longfield-gardens.com/article/7-tips-for-planting-tulips
Tips include: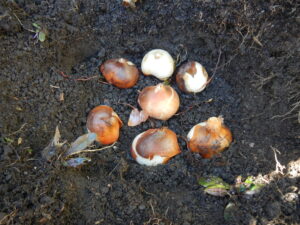 Dig a round hole that is 6 inches deep.
Make sure it is well watered.
Insert tulip bulbs with the pointy end up.
Instead of spacing them apart by 4 inches each, plant a cluster of tulips together.  I did 7 in one hole and 9 in another!
Cover with dirt.
Re-water
Have patience for the spring when nature's masterpiece will bloom forth in all its glory.
Planting them in clusters is totally contradictory to what the package directions say, however, it creates a burst of colour instead of individual flowers standing on their own.  This trick is actually used in many garden park settings.  Try it and see what you think.
No matter what, digging in the dirt is great for your mind, body and soul.  It looks like we have a couple weeks left to get any spring bulbs in.  Enjoy it while you can!
Sending sunshine your way,
Susanne