UNESCO World Heritage Site
Did you know that at the beginning of July, Writing-on-Stone Provincial Park/Aisinai'pi National Historic Site was declared a UNESCO World Heritage Site?   It has the highest density of rock art anywhere in the plains of North America and some of the rock art could possibly be up to as much as 3,500 years old!  It is located about 1 1/2 hours south of Lethbridge, AB. https://www.albertaparks.ca/parks/south/writing-on-stone-pp/
Tips for visiting
I highly recommend visiting this wonder. I do have a few quick tips.
1. Since you will be close to Warner, take in the Devil's Coulee Heritage Dinosaur Museum as well and do the morning tour to go to the site where they found Dinosaur eggs! This is the first and only ever discovered dinosaur nesting site in Canada – a true palaeontological wonder – the ancient nest of a mother Hadrosaur (a duckbill dinosaur) and several of her still unhatched eggs.
2. It gets VERY hot in this area and it can be even 10 degrees hotter amongst the hoodoos and rock art (temperatures have sometimes exceeded 40 degrees!) Sunscreen, insect repellent, hat and plenty of water are all musts.
3. It is important to wear closed toed hiking shoes/boots because there are rattlesnakes in the area, Prairie rattlesnakes are very timid creatures, so if you leave them alone, they in turn will leave you alone. The visitor's centre has a great handout on do's and don'ts. One thing that stood out for me from their handout is if you hear a rattle, do not step back. Often the snakes do not make a sound until you have passed by them. Look around for where the sound came from first and then back away slowly.
4. Camping is available at the Writing on Stone park itself, but you need to book far in advance to get a site. They even have glamping tents available. We stayed at Gold Springs Campground which was 40 minutes away, but it was a very quiet and well kept location which had a reservoir for swimming, fishing and non-motorized boats. We tented, but they also had cabins available to rent.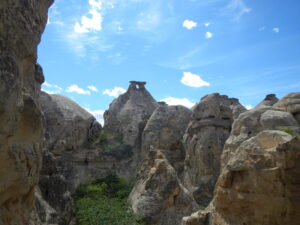 You can do a self guided tour of the Hoodoo Trail at Writing on Stone. It is a 4.4 km trail return. The hoodoos are sandstone formations that create a magical landscape. Along the trail, there are rock carvings (petroglyphs) as well as pictographs (rock paintings) which reveal stories of the indigenous people who came there,
The visitor's center has more information as well as a detailed interpretive centre.  You can book a tour here to a restricted access site to learn and see even more about the rock art and its meanings.  I highly recommend taking either a morning or evening tour so that it is not so hot.
Guided Tour
We were fortunate enough to have Randy Bottle, a Blackfoot Elder as our guide. He explained that if a Blackfoot person accomplished a great deed, they gained the right to record their story in the stone. They did these 2 different ways:
Petroglyphs – these were scratched into the sandstone cliffs using antlers or bones.
Pictographs- were painted with red ochre (crushed iron ore mixed with animal fat)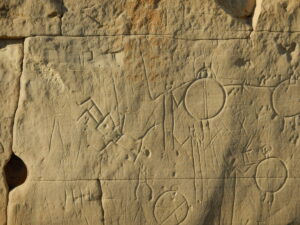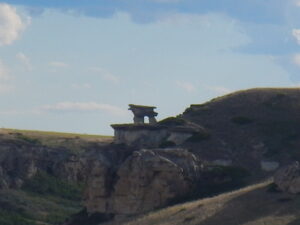 Randy explained that the round parts on the bodies represented shields. Randy's passion for sharing the stories and his culture was evident. He had a wonderful sense of humour as well. He pointed out this rock which he said was one that would have been used in doing vision quests.
He also walked with a big wooden stick and struck it down loudly to let the rattlesnakes know that we were coming. We did hear one rattle, but it quickly slithered away.
Writing-on-Stone had been on my bucket list to see. I feel full of wonder and awe from the whole experience. I hope that you do as well.
Sending sunshine your way.