Below is a quick interview with Bruce Callow, former Calgarian who now lives in Costa Rica. Bruce is the co-author of the book, To The Stars: Costa Rica in NASA. He is also a volunteer space educator offering workshops online and in person. He will be travelling back to Calgary, AB, Canada in April, 2020, so if you would like to book him to speak directly at your school or with your group, please contact him at: [email protected]
You can also go to FB at: https://www.facebook.com/To-the-Stars-Costa-Rica-in-NASA-178465973058778/
What inspired you to launch your first workshop in Canada with Indigenous youth?
I was on an extended stay in Calgary in 2019 and was fortunate to be introduced to some very committed and inspiring teachers, activists and journalists who work with First Nations students. These people helped me get involved. I found very receptive audiences in First Nations communities as the messages in our book are universal. The students in Morley and Tsuut'ina were already working on their own space and robotics projects so our workshops fit in nicely with what they were doing. The outreach we do with the book is all about reaching out to less serviced communities wherever they might be. I really enjoyed interacting with the kids from the First Nations around Calgary. The students have some excellent teachers and mentors including astronomer Rob Cardinal who used to work at the Rothney Astrophysical Observatory and is now a teacher at the Siksika Nation. Our NASA Costa Rica workshops helped some people in Canada appreciate Costa Rica in a new way, as an emerging high tech country that has produced some of NASA's best talent.
When did you start doing these workshops?
We got started at the launch event of the book in August 2018 at the Costa Rica International Book Fair. We have done over 60 workshops since then which often include web conferences with the NASA people from our book. Last week, we presented our book at NASA's annual space exploration educators conference in Houston. It was a very inspiring conference!
How did you start working with NASA?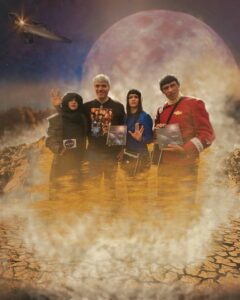 I do not formally work for NASA, but rather as a volunteer space educator. NASA and the Canadian Space Agency have been very generous in providing me with educational materials to give to the students at the workshops. My original connection with NASA started back in 2010 when I co-produced a youth oriented climate change education film with former Costa Rican astronaut Dr. Franklin Chang. Dr. Chang shares the record for space flights ( 7) and he has been working on a new space propulsion system for most of his adult life. I did some work for him as a publicist starting in 2014 which opened doors for me at NASA and from there I continued my own research and writing space related blogs. In my blogs, I revealed to the Costa Rican public a few more Costa Ricans who were working at NASA but were unknown. This eventually led to the offer from the TEC Costa Rica University Press to write a book for them.
Tell me a bit about your book?
It chronicles the origins, struggles and triumphs of 11 Costa Ricans who achieved their goals at NASA. Their jobs range from a legendary space shuttle astronaut, the current director of NASA's Earth Science Division, several highly recognized engineers, an oceanographer and two jet propulsion technicians. The book is laid out in an interview format where the NASA personalities share their experiences and inspiring messages. Its easy to read and has lots of cool photos of them doing their jobs. Its a bit like a guide book on what it takes to get to NASA and gives inside perspectives on what it is like to work at the Johnson Space Center, Jet Propulsion Laboratory, Ames Research Center and Goddard Space Flight Center.
Do you have any stories about your experience doing these workshops?
The workshops at Nakoda Elementary school in Morley with grade 4 and 5 students were some of the most dynamic. We had two Jet Propulsion Laboratory engineers speak to the kids in those sessions and it was impressive to see how well the kids prepared their questions. Our NASA guys did not have a chance to give their presentations because the kids just started asking questions which went on for over an hour. Every student that wanted to had a chance to talk to someone from NASA. It was pure excitement and no doubt a very memorable science class for the kids.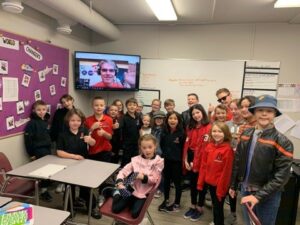 Have you offered any online workshops in Canada?
I organized a Q&A between elementary students in Airdrie and Sam Birch, a Canadian expert on Titan who works at Cornell University.
What do you hope to accomplish from the workshops?
Students leave our workshops armed with new ideas and inspiration about the educational and career paths they might take. Some of the NASA people in our book overcame some pretty difficult experiences in their lives to get where they are. Their messages are powerful and full of hope. It is my hope that we inform young people about the range of jobs they might consider doing in the future, and to encourage them to strive to reach their full potential in life.
Is there anything you would like to add?
For such a small country Costa Rica has punched well above its weight in terms of its impact in space exploration. I feel very fortunate to be part of this project and l hope to meet more students in 2020 and share our To the Stars: Costa Rica in NASA book with them.