Today, I was wanting to go on a grand adventure to kick off this Wild About Nature Challenge.  I thought that I would go on an adventure to check out this park that I have never been to, and that starts with the letter "A". They even had a hike loop named Aspen Trail!  I had never heard of this area, but the views and reviews looked awesome.  It was called the Ann and Sandy Conservation Area and is basically a 1 hour jaunt from my place. http://www.crossconservation.org/
20 minutes into my drive, a new kind of adventure happened for me.  My car died in the middle of driving up a hill outside of Cochrane.  I was able to pull over and took this quick 1 minute video on basic safety to help you if this situation every happens to you, to keep you safe from a potential accident.   https://www.youtube.com/watch?v=syBQPc9O_Uc
The quote that came streaming in for me was by John Lennon " Life is what happens while we are busy making other plans." 
I have a basic AMA membership, which I am very grateful for and was able to phone and get a tow truck.  Now here is where things got a wee bit asinine in my opinion.  The tow truck driver was not allowed to take me in his truck because of the virus.  I had to phone a friend (who I am so appreciative of for coming and getting me).  I had to sign two different documents with the tow driver's pen and use his POS machine to pay the extra charge for towing my car all the way back to Calgary…and not once was hand sanitizer used.  Hmmm…is all I have to say!
Upon
arriving home thanks to my friend, I knew I needed to get out for a walk ASAP as I was a tad bit angry at how the events had unfolded!  I called a friend in my neighbourhood who is currently working from home and she came on a quick nature break walk with me and took this picture of me making an Angel in the snow.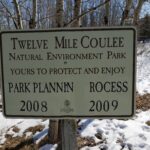 I needed to go on a much longer walk, so while she went back to work, I continued to walk some of the trails of the beautiful 12 Mile Coulee which is literally right out my back door.  As I walked, and breathed in all that beautiful fresh Air, I felt myself calming down.
I took a picture of the rose hips which are full of Vitamin C…a form of Ascorbic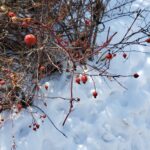 acid and a great Antioxidant!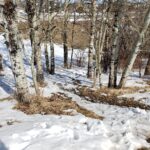 I took another picture of the Aspen trees.
I also took this picture of American Silverberry (Wolf Willow).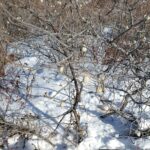 Nothing like a little fresh Air in the lungs to make me realize that All is well!
My hope is that your first day of this challenge was the adventure that you had hoped for!  Be well.